Pennsylvania-Specific Medicaid Tamper Resistant Pads
MediScripts provides prescription pads to active physicians in Pennsylvania. These tamper resistant prescription pads are secure, trusted and simple. Our prescription pads are personalized to meet individual practice needs.
MediScripts complies with state and federal requirements for printing prescription pads. Since 2008 all Medicaid prescriptions that are hand-written must contain at least one feature from each of the three tamper-resistant categories:
Category 1: One or more industry recognized features designed to prevent unauthorized copying of a completed or blank prescription. MediScripts prescription pads contain:
"ILLEGAL" Pantograph
Artificial watermark on back
Microprinting
Coin-reactive Ink
Category 2: One or more industry recognized features designed to prevent the erasure or modification of information written on the prescription by the prescriber. MediScripts prescription pads contain:
Safety Blue erasure revealing background (resists erasures and alterations)
Quantity check off boxes
Refill indicator (circle number of refills or "NR")
Category 3: One or more industry recognized features designed to prevent the use of counterfeit prescriptions. MediScripts prescription pads contain:
Security features and descriptions listed on the prescription
Serialization
These requirements are only for hand-written prescriptions. They do not apply to verbal, faxed or electronic prescriptions.
Healthcare practitioners in Pennsylvania and around the nation have trusted MediScripts since 1981.
New User
Our prescription pad subscription package starts at as low as $70.99 for an order of 800 scripts.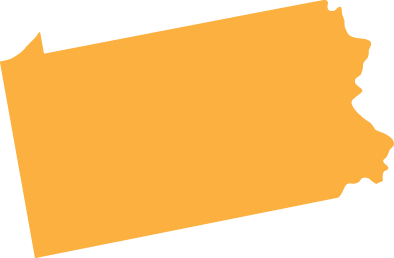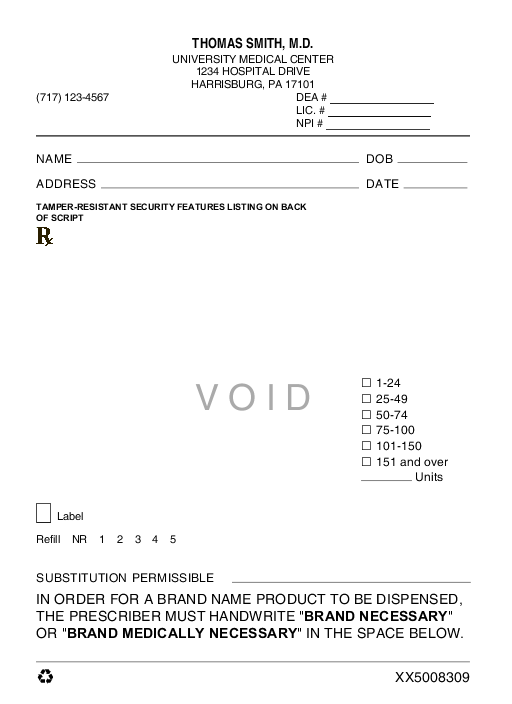 Prescription Pad Pricing
All pricing listed below includes shipping and handling.
800 Scripts
1,600 Scripts
3,200 Scripts
Pennsylvania:
$70.99
$82.99
$126.99
Prices and promotional offers are subject to change without notice
What you get:
Subscription services provided by MediScripts ensure that you will receive timely reminder notifications for reordering your personalized prescription pads and access to an experienced and knowledgeable customer service team. Your subscription will include an order of 32 or 64 personalized, tamper-resistant prescription pads, each pad containing 50 prescription blanks. MediScripts prescription pads can be reordered to ensure a continuous supply. MediScripts Rx pads may contain FDA approved pharmaceutical messaging, when available. You may also receive important, time-sensitive pharmaceutical branded product information as part of your subscription service, when available. Subscriptions do not renew automatically as Rx pads are a regulated medical product that require prior order verification and prescriber credential approval.
Refund and Returns:
MediScripts prescription pads are backed by our 100% satisfaction guarantee in the event that your order is defective or incorrect due to error made by MediScripts. If you are not completely satisfied we are happy to offer replacements or refunds, though some exceptions or restrictions apply. If your order was damaged during shipping, please call our toll free number 1-800-387-3636 and we will arrange for the prescription pads to be returned to us and your no-charge replacement order will be produced and shipped back to you. Refunds may be issued within 90 days of purchase, though some exceptions or restrictions apply. If you have any questions, please contact us for more information.